Conjoining, by Heidi Czerwiec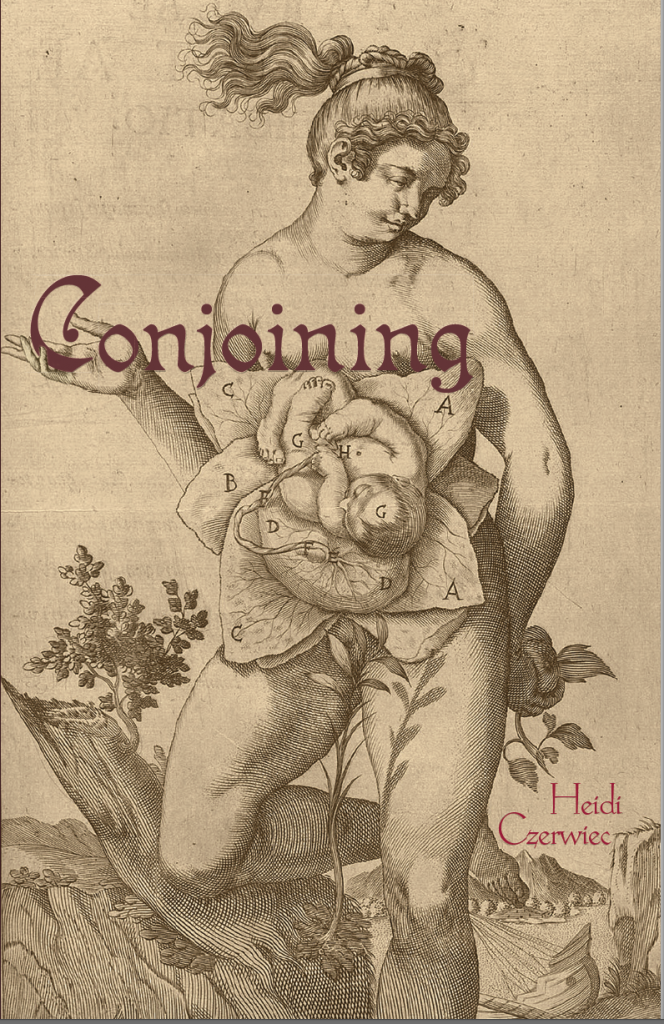 ISBN 978-0-9987810-2-0
US $14.95
Sable Books is pleased and proud to announce the poetry collection Conjoining, by Heidi Czerwiec. 
Praise for Conjoining by Heidi Czerwiec
"The fierce and fertile imagination of Heidi Czerwiec is a force to be reckoned with in this sublime collection of poems. Conjoining is not an easy book, but then again, it traverses some of the hardest territory a writer can encounter and confront–loss and pain, the "parasitic" twinning of vulnerable lives. The concerns of this book are tensely painful, but Heidi Czerwiec, a poet so silky-smooth in her use of form, compels us to read and read further, giving voice to the marginalized and slighted lives she depicts with true and tender mercies. This book amplifies the very alphabet, bringing us new language for the most ancient of stories and rituals. It is, quite clearly, a triumph."  —Allison Joseph, author of Confessions of a Barefaced Woman

"Mary, Mother Incarnate, carny / of the most marvelous yarn" is the invocation of "The Girl Who Gave Birth to Rabbits." Society spends a lot of time debating nature versus nurture, but what is deemed "natural" carries its own politic. In Conjoining, Heidi Czerwiec interrogates what happens when progeny is made spectacle. The observer of "Fetal Skeleton, Mütter Museum" declares "I could pick my teeth with you, could bait / your thin ribs and catch more with every cast." In another poem, "The local witch advised we be deprived / of food eight days," recalls a conjoined sibling, "but we survived." These smart poems—many grounded in case histories—offer the texture of song, the play of a puzzle, the heft of a novella, and the consuming gaze of a scalpel. —Sandra Beasley, author of Count the Waves and I Was the Jukebox

"Erudite, sad, funny, and grounded in significant historical research, Heidi Czerwiec's Conjoining offers portraits of a diverse cast of characters. We meet a woman with a phantom pregnancy of quintuplets, fetal cells made mutant by radiation or toxic chemicals or thalidomide, and in an ambitious poetic sequence, we are introduced to A-ké and P, his "Parasitic Twin." This is risky subject matter. A less skillful poet might turn such material into freak show. But Czerwiec—both formally rigorous and empathetic—ensures that we are moved not horrified by the many kinds of monsters that can be birthed, that birth itself can be monstrous, and that motherhood can turn mothers into monstrosities." – Jehanne Dubrow, author of Dots & Dashes and Home Front
More about Conjoining
In this age of truths coming to light, Czerwiec's Conjoining shows us who the monsters really are and in her poetry — fierce and precise wielded deftly as any surgeon might their blade — she dissects the body politic. We hope you will join us in celebrating and lifting Czerwiec's important voice in the contemporary literary landscape.
Related: Richard Krawiec, Mary Barbara Moore, Red Sky